Local Attractions
Niagara Falls Fun Zone
CLICK HERE
Get ready for non-stop excitement in the Niagara Falls FUN ZONE, where every inch of our 200,000 square-foot facility is designed to be the ultimate in fun for all ages!

Stroll this all-in-one, non-stop indoor carnival and lose yourself in the enjoyment that families and first-dates alike won't be able to resist!

The Fun Zone experience is great for corporate team building – or to win your date a stuffed animal! Compete against friends---play as a team--- unite as a family!
Mystic Maze of Mirrors
CLICK HERE
At Niagara's all-new Mystic Maze of Mirrors, you'll have to find your way through an endless labyrinth of towering mirrored walls and reflections that stretch into infinity!

Enter with your friends and family and watch them multiply as the maze generates this incredible optical illusion!!
Galaxy Quest & Apocalypse Lazer Tag
CLICK HERE
Engage in an intergalactic battle of the future at Niagara's most high tech lazer tag attraction. Inside the darkness of a 2,000 square foot room with two full-size rooms, test your skills in a challenge against other live players. Equipped with a light-up chest pad and armed with your trusted luminous rifle, Lazer Tag combines the classic games of hide-and seek and tag with a unique high-tech twist. Players accumulate points by seeking out and "tagging" their opponents when they successfully shoot each players' colourful, luminous targets.
Mini Putt Shipwreck Adventure
CLICK HERE
Dive into a sea of fun in Niagara's newest glow-in-the-dark Mini Putt!

This state-of-the-art, 18 hole expedition will immerse you in a shipwreck adventure from sea to land! You'll experience aquatic wonders and enjoy the thrill of a jungle safari.

Watch your surroundings come alive in this 3 dimensional, high-definition underwater eco system, where every turn is a great photo opportunity with family and friends!
Machine Gun Range
CLICK HERE
This is your chance to experience one of Canada's only true semi-automatic assault rifle ranges. Shoot expertly-crafted air soft models at a jaw-dropping 15 rounds per second in a safe and supervised adventure geared for all ages!

Have your choice of all the assault rifles made popular by your favourite video games and action movies!
Level 99 Virtual Reality
CLICK HERE
Play anything, anywhere. Step into worlds never before imaginable and experience them in the thrilling captivation of virtual reality. Explore Mars with a rover or fly over the famous city of Paris from a birds eye-view. With level 99 Virtual reality, all of your dreams are a game away.
Screaming Tunnels Haunted House & Torture Chamber
CLICK HERE
Would you dare to enter our two brand new haunted house attractions? Thrilling, shocking, and mesmerizing have been some of words used to describe these terrifying feats of creations. Are you brave enough to enter? The choice is yours.
Fallsview Fun House
CLICK HERE
Come and enjoy unique and exciting thrills around every corner. Look out for the upside down room, statues, basketball nets, fun house mirrors and much more! A truly remarkable adventure that is fun for the whole family. Maneuver your way through the many statues and obstacles, and make sure to take a photo with each! You can either find yourself in a barrel heading over the famous Niagara Falls, or in a Team Canada hockey jersey representing Canada on the world stage.
Captain Jack's Fun Centre
CLICK HERE
Experience Captain Jack's Fun Centre on Clifton Hill to enjoy cutting-edge entertainment in an energetic venue. Offering over 200 of the latest interactive video and arcade games, 6 fun filled attractions and a sports bar & restaurant with 20 large lcd's and two 150 " screens showing all major sporting events.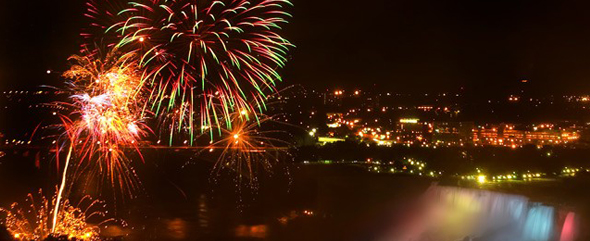 Fireworks over the Falls
Enjoy a spectacular light display over the famous Niagara Falls. A magnificent illumination you can enjoy from the comfort of your suite.
From January - April, the Falls are illuminated until 10:00pm and from May - December until midnight.
Nightly Falls Illumination
Be amazed at your own private viewing of the Fireworks over the famous Niagara Falls from the comfort of your own suite. Or enjoy a delicious meal at The Fallsview Keg Steakhouse + Bar while viewing the spectacular light highlight.
Fireworks begin at 10pm from May - October and November - January (during the Winter Festival of Lights), visitors will be thrilled by the free fireworks display.